Line is one
Instant messaging applications are quite popular in Indonesia. His presence as
the pioneers of these funny and attractive stickers are indeed very popular with
many users. However, the Line feature is not only superior
only on the sticker part. There are still many other features that are not yet known
person. for more details, the following review.
1. Can change number without deleting chat
When we use
Line application, we must enter a mobile number. However, number
it can only be used once. That is, if we want to change the number
phone, then this can affect all chats that you have
do, i.e. all chats will be deleted.
However, for Line
the latest version, we can change the mobile number without losing
our chat history. First enter the Line application first. Next
Select the contents of the chat you want to back up. Then, press the arrow icon
located in the upper corner and select the "Backup Chat History" menu. After being pressed,
You just select "Backup All" to back up all chats along with several
supporting files.
When the backup process is complete
finished, a notification will appear. The notification is a sign
sending backup files. The next step is to just write an email address
us and press send. When we change numbers, we just do
restore all chat history by clicking the "Import Chat History" button. With
so, all chats that you have backed up can be read back by number
the new one.
2. Become an Official Admin Line together
When we want to make
Official Line account, then we can only use one account only
as an Admin. However, now we can add as many admins as we like
heart. That allows one official line account to be used in an integrated manner
together.
How to access features
it's quite easy. First you have to install the "Line @" application on
smartphone. If you have opened the LINE @ application, enter the "Settings" menu. Next
Select the "Manage" menu and search for "Manage Admins". That's where you can choose
who are the admin accounts for the official LINE Account.
3. Sorting friends on Line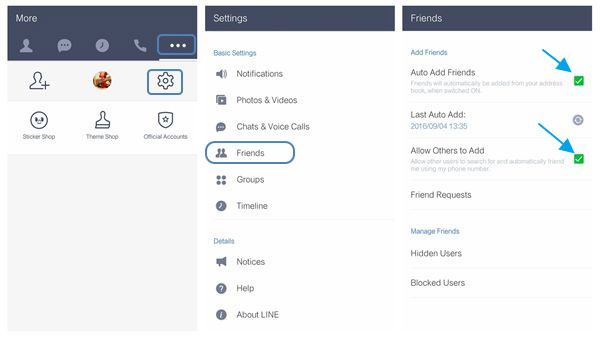 Same with the system
Other instant messages, if our friend has installed the Line application, then
the name will automatically appear in our Line application. However,
certainly not just friends who can connect automatically, people who
unknown will automatically be our friend. Well, if you are
feel annoyed by this, in the Line there are features for
sorting friends.
First open the Line application,
then select "More". There you just press the "Settings" menu. Next
click on "Friends" so you can manage your friends in the Line. Furthermore,
You can uncheck the "Allow Other to Add" section. With
so, any who add your number on their smartphone will not appear
automatically in the Line. These people have to make a relationship
manually by doing "Add Friends".
4. Saving data
Cause
internet quota quickly runs out there are many factors. One of them is usage
social media, browsing and instant messaging every day. Well, Line application
it is also one of the biggest contributors to quota wastage. However, you are
no need to worry anymore if you use Line now because it's inside
there is already a feature to save quota.
To activate it, first
open the Line application as usual. Next choose 'More" in
bottom right corner. Then select Settings and select the "Photos and."
Video ". There you can change the picture and video quality to "Low". After
save the settings. By setting the quality to Low,
then all photos and videos that you open will run in low quality.
5. Change ringtone Line
When there is a notification
enter, of course you are familiar with the typical sound of the Line. However,
if you are bored with such tones, you can change
the ringtone is what you want. To be able to change the ringtone, you must
Enter the Settings section.
If you have entered
Settings section, then select Notifications, there you will see
"Sound" menu, enter the menu. Well, in it you can change the pitch
in accordance with the wishes. You can use the tone found on the Line
or use another tone outside the Line by selecting "Others".
6. Shake the smartphone to add friends
If we want to add
friends use Line, usually we have to enter a Line ID or enter
phone number. However, there is actually one more way, namely by shaking it
smartphone and your friend's smartphone together.
To activate the feature
Go to the Add Friends menu and select the "Shake it" icon. Next
You just need to shake the smartphone. It doesn't have to be fast-paced, important
the notification appears friend.
That is the Line feature that is rarely known by users. You can read other references such as advantages of own Line stickers and applications make good stickers. Hope it can be useful.