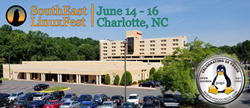 Pogo Linux today announced it will be a Platinum sponsor of the 10th Annual SouthEast LinuxFest, the region's longest-running open source event. In addition, Pogo Linux will be giving away a 20TB storage system as the grand prize for the attendee raffle

REDMOND, Wash. (PRWEB)
June 04, 2019
Pogo Linux today announced it will be a Platinum sponsor of the 10th Annual SouthEast LinuxFest (SELF). The Southeast region's longest-running Open Source event will be held June 14-16, 2019 at the Sheraton Charlotte Airport in Charlotte, NC. In addition, Pogo Linux will be giving away a 20TB storage system as the grand prize for the attendee raffle, which directly supports the non-profit organization.
As the event's platinum sponsor, Pogo will be giving away a custom-built Network Attached Storage (NAS) system with $4,400 retail value to the grand prize winner of the attendee raffle on Saturday, June 15th. The NAS system features 20TB of redundant storage and includes a one-year license for QuantaStor® Software-Defined Storage (SDS) platform from OSNEXUS®. Attendees are encouraged to stop by the Pogo Linux booth where the NAS system will be on display.
Pogo will participate in the expo area where team members will be giving away Linux-themed swag and connecting with members of the Linux community from the southeastern United States. SELF is a free open source community event for individuals of all technical skill levels and interests. Aside from being an interactive social event, SELF consistently draws distinguished speakers from the open source community. This year's keynote speaker will be open source advocate Eric S. Raymond, author of "The Cathedral and the Bazaar."
"At Pogo Linux, one of our core tenets is to support the open source community, so we are proud to be a part of the 10th annual SELF event as a Platinum sponsor," said Paul Bibaud, VP Sales & Product Development from Pogo Linux. "This show is important because it gives us the opportunity to engage directly with attendees in a region whose business and university communities are doing some amazing open source projects."
To see the entire SELF session schedule and register for the event, visit https://southeastlinuxfest.org/
To read more about Pogo Linux at SELF, visit https://www.pogolinux.com/blog/self-2019/
About SouthEast LinuxFest

Taking place every June in Charlotte, N.C., SELF is a community event for anyone interested in Linux and Open Source Software. It is both educational conference and social gathering. Attendees of all skill levels converge to share tips and ideas, strengthening alliances in the Linux community of the southeastern U.S.
About Pogo Linux

From a single system to an entire datacenter, Pogo Linux has provided servers, workstations, and storage solutions to universities, corporations, and government institutions for over 20 years. With a focus on custom configurations, cutting-edge technologies, and exceptional support, Pogo has been a trusted advisor to the IT and Open Source communities since 1999. To learn more, visit http://www.pogolinux.com and follow us on Twitter.
Share article on social media or email:
>> Source Link