Who does not know
Facebook? Social media which is very popular in this world can be said as
a pioneer of the spread of social media that we often use today. Facebook
itself offers many interesting features so that many people still feel at home
use it today.
Even though it has become wrong
one of the most popular social media, but there are still many people who don't know it yet
some secret features on Facebook. To find out more,
The following is a review for you.
1. Seen's Feature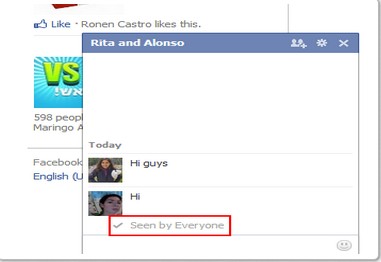 This feature is basically
not much different from the features on Whatsapp, ie others can
find out whether the message that has been sent has been read or not by the si
receiver. If Whatsapp is marked with a checklist of two and is blue,
then on Facebook is marked with a checklist and there is a description "Seen
… pm / am ".
It turns out that this feature can be us
turn it off so that other people cannot know what message we have
send it read or not by him. The method itself is quite easy, that is
by installing an extension on Google Chrome named
SocialReviver. This extension can be found on the Chrome Web Store.
2. Blocking Applications on Facebook
On some Facebook side pages,
sometimes we feel uncomfortable with the applications that are scattered on the page
Facebook. This is sometimes quite disturbing our activities within
surf on Facebook. Luckily we can block it
some of the applications that interfere with it.
The method itself goes to
the "settings" or "settings" section. The entry method itself is just a click away
on the down arrow icon in the upper right corner and choose settings. After
enter, select "Blocking" or "Blocking" which is located on the left side. Next
you see the "Block Application" or "Block App", there you just enter
the name of the application you want to block. When finished, you can return to
start page and see the results.
3. Our private profile
To maintain the privacy of profiles
us, Facebook provides a feature to hide our profile information
from careless people. Surely this feature is very important because we remain
must be wary of foreign accounts that we are friends with, including in
the world of social media. The way to manage privacy is quite easy. First come in
into "Settings" or "Settings" then select privacy. Next, you can
organize your activities such as "Anyone who can see our posts
or anyone who can see our profile. After you succeed
set it up, now you don't have to worry about your profile being seen by
carelessly people.
4. Sharing posts without including a link
We often share or share interesting posts on Facebook by clicking the share button which is right next to the 'Comment" feature. However, when we share a post sometimes the links come along so that it makes it less comfortable. Therefore, basically when we click the share button, we can delete the link or accompanying link so that the post looks more presentable.
5. Track activities of Hackers
The existence of hackers
certainly makes us quite worried. Especially if our Facebook account is successful
hacked certainly makes us afraid of the many important information on
therein or fear of abuse. However, it turns out we can know the activity
a hacker if your account is really hacked.
It's easy to do, first
enter the settings or settings. Then, enter the "Security" menu
as well as login info "or" Security Folder "menu if using English. After
enter, then you select "Where Youre Logged in" or the "Your Place" menu
login". There you can see what platforms or devices are
using your Facebook account. If you feel you are not using
indicated device, you can click the three dots on the side
the foreign device and select "Logout" or "Logout". So can you
learn ways
blocking Facebook accounts themselves from being abused by hackers.
6. Saving Facebook posts
You like a few
postigans milling about on the Facebook timeline? Maybe you think you want to
save it as a collection but confused how? Take it easy, at
in Facebook, we can save the posting links that we consider
interesting. The method itself is quite easy. First see the posts that you think
interesting. After that, click the down arrow in the top corner
posting. Just click and see the word "Save Link". That way, posting
it will be saved on your profile.
Here are 6 hidden features
Facebook is not yet widely known by many people. You can also find out
some other information such as feature
hidden messenger Facebook way
remove facebook Lite benefits
Facebook and many others. I hope this article is useful.