When studying Indonesian language lessons, surely you will find material about procedure texts. This text is a text that aims to help readers do something.
Not only that, this text is also very useful for readers because it contains tips and tricks for doing something. For example, the procedure text for making Japanese ramen noodles, the procedure text for making origami crafts, etc.
In this article, I will provide and explain the meaning of procedure text with examples of simple procedure text examples, protocol procedure text examples and text examples complex procedure. The following is a more complete explanation:
Sample Procedure Text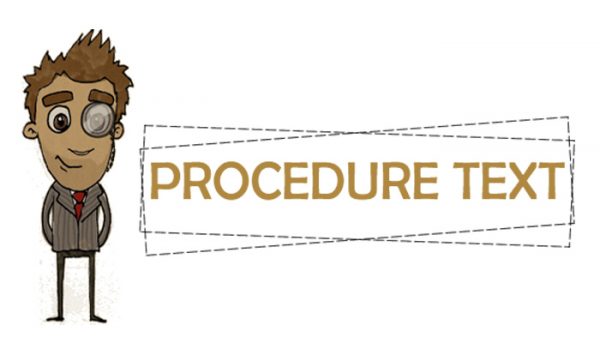 Before entering into a discussion of sample procedure text, you need to know in advance what is meant by the procedure text. Understanding the procedure text is a text in which contains ways or steps, with the aim is to do or make something with steps secsrs right etc in sequence until it can produce a desired goal.
Text procedures also generally exist in writing that contains tips, ways and tutorials to do certain steps. Not only that, in this text also contains the imperative stau command to do what has been discussed in the text. This was made so that readers do what has been instructed in the text.
For example, as you are looking for writing about how to get rid of acne using natural ingredients on the internet . So in the article the article will display a tutorial or a way to get rid of zits using natural ingredients.
These methods will also be presented well and in order so that you are easy to do the ways. Well, therefore below will give examples of simple procedure texts, complex and protocols.
Examples of Simple Procedure Texts
Simple procedure texts are useful for students. But not only that, this procedure text is not only useful for students, but also for all humans. Because without procedure text, people will not be able to make or run anything.
In the procedure text, there are three types of procedure texts, one of which is a simple procedure text. Following is an example of a simple procedure text.
1. How to use whatsapp on the web
Dobawah is a tip for you if you want to log into your WhatsApp account using the web. You can follow the guidelines below:
Make sure the cellular data on the mobile phone that has your WhatsApp account is on.
You can open your computer and enter the WhatsApp link web.whatsapp.com.
After that, then a QR code appears and you are welcome to scan the QR code.
To scan, you must open your WhatApp application on your Android mobile.
Click on the third point in the top right corner and then click WhatsApp Web.
Your mobile camera will turn on and you can scan the QR Code using the mobile camera.
Your WhatsApp account can also be accessed using the Web in your computer's browser.
Example Text Complex Procedure [19659024] Examples of Complex Procedure Texts " width="550″ height="313″/> Judging from the simple procedure texts as above it can be concluded that the procedure text has a short method. And procedure text also has another type of text, namely complex procedure text.

In the complex procedure text has presented a longer method, that is because the end result of that method can be achieved. And below is an example of a complex procedure text.

1. Text of the procedure for making a Bank Account

A bank account is something that must be owned by a person if he wants to save a large amount of money.

Not only that, the bank account can also be used as a means such as receiving money from transfers other people. Below is the procedure for making a bank account.

The first thing that is done is that the prospective customer must prepare a KTP that is in accordance with the region. If it is not in accordance with the area, the bank has the right to request a certificate issued by the Village Head or RT
Then, the prospective customer must prepare the first balance. Where the first balance is required to be entered into the account of prospective customers. Generally, each bank has a different initial balance value.
Then after everything has been prepared, the prospective customer must come to the bank he chooses and take a queue number. If you feel confused when looking for a specific place to open an account, you can ask the security guard.
If the queue number that has been taken is in accordance with what is stated, then the prospective customer can go to the customer service chair to open an account. And then, it must follow the instructions from the Customer service.
Furthermore, it can wait until the name is recalled in connection with the prospective customer's account. If so, then the account has been completed.

Example of Protocol Procedure Text

Protocol procedure text is procedure text whose methods are not too difficult or complicated and are also very easy to understand

And surely there are many people who prefer it when reading this type of procedure text when compared to complex procedure texts whose reading is longer. And below is a sample protocol procedure text:

1. Text of the procedure for creating a Gmail account

Gmail is an email service that was created by Google in 2004. To be able to use its services, we must first create an account. Creating a Gmail account is mandatory, especially for Android phone owners. Therefore, without having a Gmail account, Android mobile users cannot install applications using Google Play Store . For those of you who want to create a Gmail account, then you can follow the procedure below

The first thing you do is type the gmail.com link in the address bar of the computer browser.
After that, if you have entered the Gmail page, then you can click on the Create An Account button.
Next, you can fill in the registration form that must be adjusted to the personal data.
Then the page will be directed to the page to verify the account. And fill in the mobile number that is still active and then can click Continue.
After that, the verification code will be entered via SMS. And then can enter the verification code into the column that is already available.
Then Google will automatically receive the code for verification.
Gmail account has been created.

Thus the article explaining the sample text of the procedure consisting of simple procedure text, complex procedure text and protocol procedure text. Hopefully this article can broaden your horizons and also be useful for you.