---
Download VirtualDJ – VirtualDJ is software for anyone who wants to learn to become a DJ. By using it, you don't have to bother buying physical equipment like the DJ Controller which costs millions of rupiah because everything can be done directly through a computer screen.
VirtualDJ has been downloaded more than 100 million times which of course there are strong reasons to make that amount possible achieved. One of them is the ease with which to use it.
When running VirtualDJ for the first time, users will be greeted with a very complete set of tutorials such as how to add music, an explanation of the various options available, guidelines for using automix, broadcast methods, and much more others. If your curiosity is still unsatisfied, you can also watch other tutorials on YouTube via the VirtualDJ channel.
Use and Features of VirtualDJ
Another advantage of VirtualDJ is the number of decks that can be determined accordingly with the wishes of each user. By default only 2 decks are displayed, but users can add to the number of decks.
In the Settings menu, there are options 2, 4 and 6 decks. Another way to increase the number of decks is to replace the skin that allows you to get 20 decks or even 99 decks. Besides being accessible via VirtualDJ, the skin can also be found on the official VirtualDJ page.
Another excellent feature added to VirtualDJ 2018 is Videoskin. This feature serves to display a graphical display that shows how the mixing process is done. There is also a Shadertoy feature to give visual effects to audio. Users can choose one of the eleven available shader effects or download other shader effects via the download button located under the shader collection. All shader effects can also be displayed alternately by activating the Auto Change option.
VirtualDJ also allows users to do streaming videos through Facebook YouTube, Periscope, Vimeo, Twitch, Periscope, Musically or other sites. In the previous version, users were required to use the Open Broadcast Server but now there is no need because the video streaming feature is integrated in VirtualDJ and can be accessed at any time via the Broadcast menu in the Settings window.
Latest VirtualDJ download
Other factors that make VirtualDJ is different from other similar software is very large community support. You can find and download various types of skins, effects, controllers and others that are made voluntarily by VirtualDJ users around the world.
For those of you who are interested in trying it, VirtualDJ created by Atomix Productions can be run on Windows operating systems and Mac. You can use the free version while you are in the learning stage and then switch to the paid version if you feel ready to seriously pursue a profession as a DJ. Download the latest and free VirtualDJ via the link below: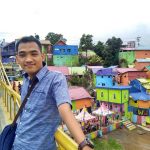 CEO and Chief Editor at Nesabamedia.com . Prefer watching movies instead of writing, writing if I just have a mood. Greetings!