Developer: Irfan Skiljan
OS: Windows
License: Freeware
Size: 3MB
---
Download IrfanView [19659008] – Although it looks simple, IrfanView is one of the most popular image viewer software. One feature is being able to open high-resolution photos quickly. In addition, the number of features it uses is also abundant, allowing you to use IrfanView more than just displaying images.
IrfanView was released for the first time in 1996. That means the software provided for free for personal purposes has been in circulation for more than 20 years . During this time IrfanView's capabilities continued to be developed with the addition of various features.
Usability of IrfanView
One very important feature in an image viewer software is the number of image formats supported. In this case IrfanView supports the image formats jpg, png, bmp, psd, webp, dng, eef, nef, ico, gif, crw, ani, cam, heic and many others.
Besides image format, IrfanView also supports audio and video formats. Thus IrfanView can also be used to watch videos and listen to music. Some multimedia formats that are supported include wav, mp3, avi, mp4, mkv, mov, mpg, wmv etc.
To display images, in addition to the manual method, IrfanView also provides a slideshow feature. This feature displays each image in turn. The time lag between each image can be determined according to the user's wishes.
By default the slideshow will stop automatically after displaying the last image, but this default behavior can be changed by activating the Loop option. This option serves to repeat the slideshow continuously until the user stops it by pressing the Esc key on the keyboard.
On the other hand, if the image is displayed manually, a small window will appear after IrfanView opens the last image in a folder. The window gives users the choice to repeat from the first image or to display other images in the subfolder.
Featured Features (Batch Conversion)
The feature for processing multiple images is also available in IrfanView. These features are called batch conversion and rename batches. The function of batch conversion is to change the image format, while the rename batch functions to change the name of the image.
Each image format available in the batch conversion menu has its own settings. For example, you can specify image quality for JPG and PNG formats, save image settings as separate profiles, and determine sharpness of images for WEBP format.
The batch conversion feature also provides several additional options such as adding watermarks in the form of text or images , file compression according to the user-defined file size limit (for example from 2MB to 1MB), change image resolution, change color depth, apply certain effects such as vertical or horizontal flip, rotate images and much more.
Download the Latest IrfanView
Overall, IrfanView is very light and fast even though it has very many features. When compared to other popuper image viewer software such as FastStone Image Viewer and XNView, IrfanView can outperform both of them in terms of the speed of opening images. The installer file size is also smaller, which is only about 3MB. Download the latest and free IrfanView via the link below: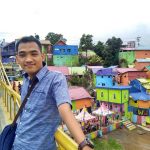 CEO and Chief Editor at Nesabamedia.com . Prefer watching movies instead of writing, writing if I just have a mood. Greetings!