Have you ever heard of the term firewall? What kind of character fir e wall do you know? A firewall is a combination or combination of hardware and software.
A firewall is used to separate a computer network into two or more parts so that the data contained in it remains safe. There is also a firewall that defines a security system that exists on a network that is useful for protecting computers from various external attacks that can come at any time.
Another use of a firewall is to limit or control who wants to enter and access data which is in a computer network. Firewalls also refer to a communication regulator carried out by two networks that have different characters or types. Firewalls have their own characteristics or characteristics. Then what are the characteristics of a firewall? Here's the answer for you.
Characteristics of a Firewall
Actually, the characteristics of a firewall can be divided into two. The first was named as personal firewall and the second was named as network firewall . Below we have presented important information regarding the two characteristics or characteristics of the firewall.
1. Personal Firewall
Personal firewall is a firewall that is used by individuals or individuals that are used to protect their computers from various outside attacks that can attack and retrieve data.
Usually this firewall will be in the form of software or software previously bundled in the operating system. In addition, this firewall can also be an application that must be installed first before the user installs it for use as a bastion.
Some of the benefits gained from using personal firewalls are that users can avoid spamming, spyware or also a virus that can enter at any time into a computer without our knowledge.
2. Network Firewall
As the name suggests, a network firewall is a security that is used in a computer network. There are various kinds of network firewalls that are currently circulating out there. Some examples of well-known network firewalls include: ISA Server, IP Tables, Cisco ASA, Cisco PIX and so on. All types of network firewalls basically have the same function, namely to protect a computer network from various cyber crimes that can anytime enter and steal important data.
In addition to the firewall characteristics that we have mentioned above. Actually there are some characteristics of firewalls that you also need to know so that you will be more understanding about this security system.
Firewalls must be very resilient to various attacks that come from outside. That way, the operating system used will be safer and also we do not have to worry about important data or information that is on the computer or laptop will be stolen.
Firewalls will make the activities or activities carried out an activity that is already registered in the network the. That is, there is a limitation on some activities that could potentially endanger the computer system. The way to do this is to set the policy section contained in the configuration.
All activities carried out in which the activity is felt from within or from outside must pass through the firewall first. That way, the firewall can restrict or even block access that has the potential to endanger the network.
Firewall function
Firewalls are used to control or supervise data packets that are on the network. Later the firewall will supervise and regulate the data packet and then filter it.
Used to check data packets that pass through the private network.
Used to check whether access is suspicious or not.
Firewall Artist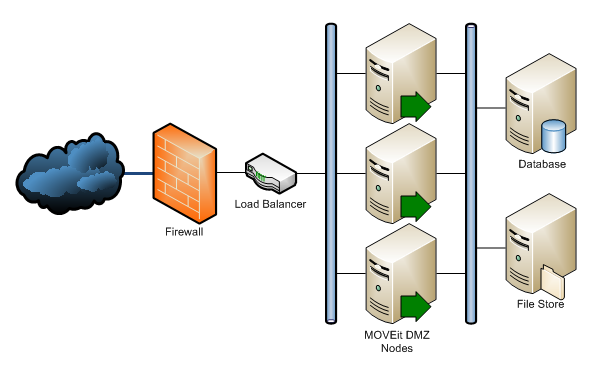 1. Dual-homed Host
The firewall architecture was first named as a dual-homed host architecture. This means that this architecture must have at least as many as 2 network interfaces.
To be able to activate this architecture, the routers in computer networks must be deactivated first. In addition, the computer system will be able to communicate with dual-homed hosts and also systems that are outside the firewall. However, the two systems cannot communicate directly.
2. Screened Host
The second firewall architecture is called the screened host architecture. The function of this architecture is to provide services that originate from the host network and then provide it to the local or internal network by using a separate set of routers. How to do security by using screened host is to use packet filtering.
So, every system that comes from outside or external who wants to access the internal or internal system must first ask permission and must be directly connected to bastion host . Bastion host is a host that is used if the user wants to obtain a higher level of security. This host Bastion is located on an internal network.
3. Screened Subnet
The screened subnet architecture is an architecture of a firewall which we will also discuss. Its function is to add a layer of security in addition to those contained in the screened host. How to? The trick is to add a network parameter to make it easier to isolate the internal network.
This parimeter network will isolate the host bastion so that it does not directly come into contact with the internal network. This type of architecture is also famous for being the simplest because it only has two screening routers, all of which are already connected to a network parameter. The position of the first router is between the internal network and the parameter network. While the second router location is between an external network or also called the internet and network parameters.
That is an explanation of the characteristics of the firewall and its architecture in the network that needs to be known. Hopefully useful and easy to understand!