Windows 10 is a version
the latest currently from the Windows Operating System. In Windows 10, this is enough
many updates are made by Microsoft to support user performance in
using computers and laptops. in addition to several new features in Windows
10, apparently there are some hidden features that are not yet known by
some people. to find out what
only hidden features in Windows 10, following his review.
1. Secret menu
To enter the menu at
Windows 10 is actually not much different from previous versions of Windows, ie
by clicking start, which is usually in the lower left corner. However, inside
Windows 10, we can find a secret feature so we can enter
into important menus quickly.
The method itself is you
right click on the Start menu. If so, you will find several menus
faster choices. For example, just like the Task manager, Control panel,
File Explorer, Command Prompt, and various other important menus. Besides with
right clicking on the mouse, you can also use shortcuts on the keyboard
by pressing the "Win + X" combination.
2. Secret key
Try to point your mouse
to the left corner, precisely next to the notification icon. In that section, there is
a small button that is as if the button is not visible. If you click
the section will automatically automatically run all programs that you enter
minimize mode
You can set the function
from the button by right clicking on the mouse directed at
the button. After you press right click, two options will appear
namely "Show Desktop" and "Peek at desktop". If you check the "Peek at
Desktop ", then you can minimize all running programs
on a computer.
3. Rotating the screen
Other uniqueness from
Windows 10 is able to rotate the screen like a smartphone. With features
This secret, you can rotate the monitor to 90 degrees on its side. Even,
this method can also rotate the screen in accordance with the wishes.
The method itself is
by pressing the combination key on the keyboard, which is "CTRL + Alt + D and the direction of the arrow".
For example, if you use the up arrow direction, the screen will
rotate 90 degrees vertically. Likewise with the other direction, you
can adjust the screen display in a very unique way.
4. Unique features Slide to Shutdown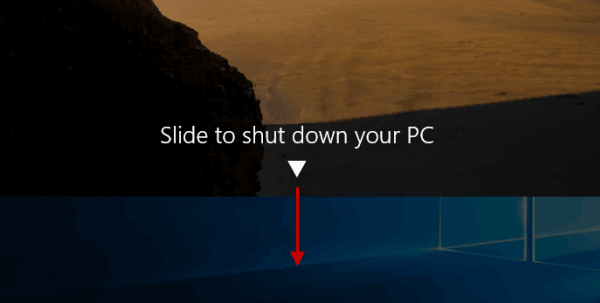 Other hidden features
No less unique is the "Slide to Shutdown" feature. This feature is
allows us to shutdown a computer without having to do it
usual shutdown button. Usually when we do
shutdown, then we always click Start then click Shut Down. However, there are ways that
more practical.
First right-click on the desktop. After that, click New and select Shortcut. After a Windows Pop-Up appears, enter the bar code below.
Later, in the monitor
an icon can be clicked. You can also change the name
some of these icons are as you wish. The way to shutdown is
utilizing slide-down. You just have to double click on the icon
was made earlier. After that, drag down the screen. Therefore,
the computer will automatically shut down. Make sure when will do
shutdown, all programs have been shut down.
5. Multiple Screen Features
Another secret feature is
the Multiple Screen. By using this feature, we can open two
program in one screen. In fact, you can also open various applications
in one screen simultaneously.
To be able to use
This feature, there are two ways, namely using the keyboard and using the mouse. If
You use a keyboard, then you just use the "Win" key combination
+ Arrow keys to your liking ". To use the mouse, you live
drag the application to the corner of the screen. Automatically, the program will be divided
by itself.
6. Cortana features on the Lockscreen
Cortana on Windows 10 can not only standby on the desktop, but can also be done when entering lockscreen mode. By default, we can actively adjust Cortana in the settings section. In a way, we can call it by writing "Hey Cortana" on the lockscreen followed by the command. For example like "Hey Cortana … play music", it will automatically appear music that has been arranged by you. The music will continue playing automatically.
7. Print To PDF Features
Advantages are quite rare
touched by some people when using Windows 10 is the feature
print to PDF without having to use additional applications. With the features
this, we can find out ways
convert word to PDF for free without using software .
Those are 7 hidden features
Windows 10 is not widely known by many people. You can read
some other unique features such as way
overcome windows 10 slow way
speed up wifi connection windows 10 way
see wifi password on Windows 10 laptop and others. If you
planning to use Windows 10, make sure to learn first differences
Windows 10 Pro and Home before using it.