Who does not know
with Google Chrome? One of the best web browsers
This has been famous since debuting on PC about 10 years ago. However,
the name is increasingly rising along with the development of the Android Operating System
on a smartphone. In fact, maybe you are also currently reading this article
from Google Chrome.
Besides its superiority in
open sites, it turns out Google Chrome also has a lot
secret features. If you are curious about what are the secret features
in Google Chrome, following its review.
1. Playing games when there is no internet connection
Have you ever seen a picture of a T-rex when the internet network is broken? It turns out that the T-Rex image can we make a game like a Super Mario game. Later you as a player must set the T-rex so as not to crash into a cactus tree or a challenging obstacle. This game can also be played on the Android version of Google Chrome although it's not as exciting as playing this game via a PC.
2. Open pages that were accidentally closed
when you are pressing
tab page to move, but you accidentally instead press the close button. Thing
like that sometimes it can happen if we are in a hurry to
open a certain tab. However, you don't need to bother reopening
tab through history. Because, by using this secret button, which tab
previously closed can be reopened. The trick is to press the button
CTRL + SHIFT + T together. That way, closed tabs can
reopened.
3. Open a new tab and delete the tab
Still in contact with
tab, but this time we focus on opening and closing tabs. If usually
we open a new tab by clicking the plus sign (+) and closing it
by pressing the cross (x), then by using the keyboard we can
perform these two functions. To open a new tab, we just need to press
CTRL + T keys or pressing the Command key (cmd) + T. Next, for
delete the tab, we can use the CTRL + W function or use the Command
(cmd) + W together.
4. Move tabs quickly
Secret feature on this one
still related to the tab. This time we move tabs quickly
without having to use a mouse. This method is enough to help us when we are
using a mouse or mouse that is used is damaged.
The method itself is quite easy,
when we have many tabs open on Google chrome, we take advantage of it
keyboard combination. If we want to move the tab to the right, then we are
just combine CTRL + Tab together. If you are using a PC
Macintosh Operating System, then use the command button (cmd) + option +
right arrow together. Otherwise, if you want to move the tab to
on the left, then use a combination of CTRL + Shift + Tab together. For
Mac version, you can use the Command + Option + arrow key combination
left.
5. Make a notepad function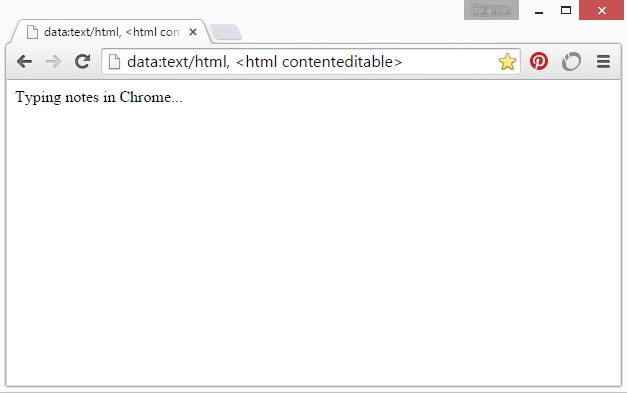 If you want to take notes
something while browsing but you forgot to put the notepad application on a PC,
You don't need to worry. Because in the Google Chrome browser, you can
create your own notepad function. The way is easy enough. First when the browser
Google Chrome opens, then just type in the address box "data: text / html,"
without using quotation marks. If successful, a white page will appear
blank. Maybe at first you felt you couldn't type anything in it. Will
but, try clicking just once on the blank page, that's where you are
you can only type to your heart's content.
6. Erase history quickly
Sometimes we want to
delete browsing history so that our privacy is unknown to many people.
However, to do this, we must go to the History menu and must
delete it manually. Well, in Google Chrome there is a fast way for all
history can be erased altogether. The trick is to use the keyboard.
To open browsing history,
just press the CTRL + H button together. To be able to delete all history
directly, you can use a combination of CTRL + Shift + Del. Therefore,
all history will be erased altogether. As for you Mac users, then you are
can try the combination of Shift + Command + Delete simultaneously.
7. Open download results without going through the folder
If you have finished downloading
a file, but lazy to open it in a folder, then there are more ways
practical to find out the results of the download. The trick is to drag
directly downloaded completed. For example, when you are done
download the video file, then you can drag the download and later the file
can be run directly.
That is a hidden feature of Google Chrome that is not yet widely known. You can read and read other references such as how to fix Google Chrome that can't be opened how to restart Google Chrome advantages and disadvantages of Google Chrome browser and others- other. Hopefully it can provide benefits.