The existence of Instagram as
one of the popular social media in Indonesia is still unmatched. It can be said that
Instagram can understand the wishes of the community, especially in Indonesia
share information through interesting pictures and videos. However, did you know if
Instagram has some hidden features? To understand anything
hidden features, the following review.
1. See the list of likes that we use
When we create an account
Instagram for the first time, of course, we've done photos or gave
comments on other people's posts. Well, did you know that we can see
back to activities on instagram like commenting or giving a like
other people's posts.
The method itself is quite easy.
First go to our Instagram profile page. After that, touch
three points whose position is in the upper right corner. Later you will
enter the settings. After that,
look at the bottom menu and look for the phrase "Posts that you like". Touch
just these sentences and the photos and videos that you have will appear
like before.
2. Limiting internet data
As we know that
Instagram is an application that is enough to drain internet data. Moreover
if you often use quotas, of course you will feel the effect. That matter
not surprising because to open photos and play videos indeed
requires a lot of data. However, it turns out that it is on Instagram
there is a feature to save data.
How to activate it yourself first go to your own instagram profile page. After that touch the three dots located in the upper right corner and enter the settings section. Next, look for the phrase "Use of Cellular Data". After finding it, touch it and you will enter the cellular data settings section. Check the "Use Less Data" section. If so, you have activated the data saving feature on Instagram. The effect of this saving feature is that opening photos or playing videos will take longer than usual.
3. Get notifications from favorite accounts
Generally when we follow
other people's accounts or our favorite pages, a notification will always appear
in the home section. However, if we follow the account and page too
many, then we will miss getting notifications from favorite accounts
we. Well, on Instagram there is one trick you can try to make it work
get special notifications for favorite accounts.
Your own method is to log in
first to our favorite intagram account. After that, touch the three dots located
in the top corner as well as in our own Instagram profile section. Scroll
go up and search for "Turn on shipment notifications". If so, then you will
will not miss getting notifications from your favorite accounts.
4. Instagram account lock
When we are followed by an account
that we don't know, the account can monitor the activities that we do.
For those of you who feel uncomfortable with it and want only people
only known ones can see our activities, so there is one special trick.
First of all come in
in our intagram profile. After that, touch the three points that are on
top right corner then enter into the settings menu. Scroll down
until you find the phrase "Private Account". After finding it, just press it
the edges so that they are blue. That means. If the color of the Private Account is already
blue, the account has been locked so that only accounts are friends
only you can see your activities.
5. Add another account to the Instagram app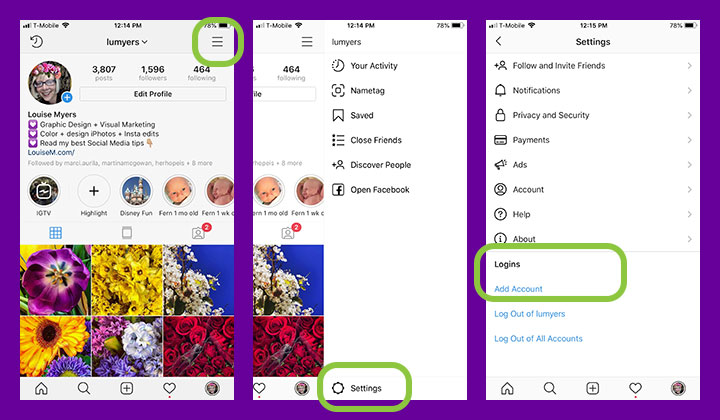 Generally we can only
open just one account on Instagram. However, since there is a recent update,
Instagram can now open multiple accounts in one application. This matter
usually allows us to set up a personal account with a trading account
for example.
First own method
first enter into our Instagram profile. After that, touch part three
point in the upper right corner and enter the settings section. Scroll to
the bottom until you find "Add Account". After finding it, you
just do the login as usual.
6. Upload many photos at once
Inside the Instagram feature
the latest, we can upload photos with a single tap. That makes
we don't need to upload photos one by one. However, photo upload limits
only given up to 10 photos.
How to upload
photo at once is to upload photos as usual. After that,
look at the bottom corner of the words "Choose some". After finding
the article, just press and you will see we can add photos
up to 10 pieces. If so, just click upload and the photos will be uploaded in a way
automatic.
Those are 6 hidden features
IG is not yet widely known to some users. You can learn
some other Instagram tricks like way
find out people stalking instagram application
download instagram videos ways
find out who blocked Instagram way
download Instagram story and many more in various sources.