Studying the types of sentences of facts and opinions is very important in the ability to absorb information. With the ability to identify sentences of facts and opinions, you are expected to be able to distinguish which information you can hold to the truth and which information you still need to dig.
For example when you read a news text watch advertisements, read papers , and other sources of information, you must know which facts and opinions are only opinions.
Sentences of facts are sentences that you can hold to the truth, whereas opinion sentences are sentences that cannot be proven. To make it easier for you to understand sentences of facts and opinions, here we will learn together about examples of sentences of facts and opinions.
Collection of Examples of Sentences of Facts and Opinions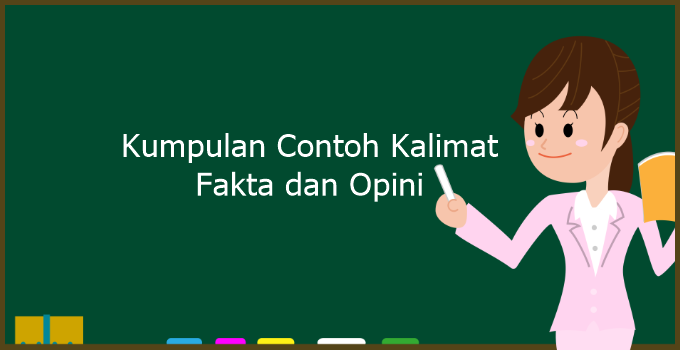 Characteristics of Sentences of Facts
As the name implies, a fact sentence is a sentence based on a real thing or event that actually happened. The fact sentence can be proven and the truth cannot be refuted. Generally, we will find factual sentences in news texts, journals, knowledge books, etc.
Sentences of facts can be generated from various sources, such as events that have occurred, research results , as well as someone's observation. To make it easier for you to identify whether a sentence is a fact or opinion sentence, here are the characteristics of a fact sentence that you can use as a reference.
Can be proven true
Sentences are neutral and objective, alias does not favor anyone.
Sentences based on facts that actually happened
Sentences can be either numbers or statements
Having a credible and trustworthy source
Data presented precisely and accurately
Now, to help you better understand sentences facts, we have made the following 25 examples of fact sentences that you can use as study material.
25 Examples of Fact Sentences [19659007]

Indonesia is the largest archipelagic country in the world with 17,504 islands.
The Javanese are the largest tribe in Indonesia with a population reaching 41 percent of the total population.
H. Joko Widodo is the seventh president of the Republic of Indonesia who has a background as a furniture businessman.
Presidential elections of the Republic of Indonesia are held every five years while US presidential elections are held every 4 years.
There were 34 ministers in the first period of Ir. H. Joko Widodo
Indonesia is the 4th most populous country in the world.
Sundar Pichai is a man of Indian descent who has served as CEO of Google since 2015.
Based on data from BPS, the population is classified as poor as of March 2019 of 25, 14 million people.
Currently Indonesia has 34 provinces.
Borobudur is one of the historical heritages located in Magelang Regency, Central Java, Indonesia.
English is the language of international.
One of the causes of the transmission of the HIV virus is through sexual relations.
Soekarno was the figure who first coined Pancasila as the country's foundation.
Pendet dance is a type of dance originating from Bali.
Pores on the skin is a part that functions to sweat and toxins in the body.
Gadjah Mada University is one of the public universities in Yogyakarta ta was founded on December 19, 1949.
Andrea Hirata is the author of the book Laskar Pelangi.
Singapore is the only country in Southeast Asia classified as a developed country.
Indonesia is located between two continents, the Asian Continent and the Australian Continent
Lions are meat-eating animals while giraffes are grass-eating animals.
More than 80 percent of Indonesia's population adheres to Islam.
There are 193 countries in the world that are recognized by the United Nations.
Indonesia gained independence in 17 August 1945
Indonesia was colonized by Japan for 3.5 years and colonized by the Dutch for 350 years
Singapore had the smallest area in Southeast Asia while Indonesia had the largest area in Southeast Asia.

Characteristics of Opinion Sentences [19659007] Inversely proportional to the fact sentence, the opinion sentence is a sentence that cannot be proven true. The depiction of this sentence is still in the form of plans, opinions, and dreams of someone. Because everyone has different opinions, not everyone will agree with the opinion sentence.

Therefore, we cannot use opinion sentences as reference material when making scientific works. The opinion sentence will change its status to a fact sentence if the sentence can be proven true.

To learn more about the opinion sentence, the following are the characteristics of the opinion sentence that you can use as reference material.

The reality in an opinion sentence is not certain the truth can be proven or uncertain.
Sentences are subjective and can be opinions, suggestions, ideas, personal arguments delusions, and plans.
Sentences are speculative or still speculate
The data presented is not necessarily accurate

Now you know the features of the opinion sentence. Now it's time to practice composing it yourself. And 25 examples of opinion sentences below you can make references to make your own opinion sentences.

25 Examples of Opinion Sentences

He looks prettier if he has long hair
The population of Jogja is very friendly and has a high tolerance
The two men look very similar
Soccer game is the most fun game
All women love to dress up
Smartphone Iphone output is always superior to brand others
Rica-rica is better than fried chicken
KFC food is better than McDonald's
The cost of living in this modern era is very expensive, especially difficult to find work.
Rich people will get richer, the poor will get poorer
Men in suits are more attractive than men who like to show off their muscles.
Women prefer men who have experienced silan
He will like her if she does not matre
It looks like it will be raining soon, don't forget to bring an umbrella before traveling
Grant Gustin is the best-looking American actor in the world
Having white skin is prettier than white blacks
Women are better off staying home and taking care of children than working
Agnes Monica has a very sweet voice
She will do her best if given the encouragement of family and friends.
The lamp is too bright
Climbing the mountain is more fun than going to the beach
The quality of Indonesian soap operas is decreasing from year to year
In my opinion, learning science is more important than mathematics
My Indonesian language teacher is very good and friendly, while the teacher my sport is very fierce.
My aunt looks older than her age.

At this point, of course you can already distinguish between kalima Aren't the facts and opinion sentences, right? To test your understanding, guess what the following sentences are facts or opinions sentences?

Services in private hospitals are better than government hospitals
Earth revolves around the sun
Dinosaurs are ancient animals that extinct hundreds of thousands of years ago
My sister is very naughty compared to her peers.

The answers to the sentences above are sentence of opinion, sentence of fact, sentence of fact, and sentence of opinion. Hopefully the explanation of the example sentences of facts and opinions above can help. Thank you.