PDF is a type of document format that can only be opened using Adobe Reader software, a browser, or some other type of software. PDF file format is also used by many company agencies as an electronic document format, and is also used to package books into ebooks.
PDF files have their own advantages, namely in terms of dynamic appearance and many features that support and facilitate the work of its users.
But, have you ever found a PDF file whose contents cannot be copied?
Sometimes there are PDF files that are deliberately protected or locked by the owner so that the contents of the text of the PDF file format cannot be copied and pasted. How to make the contents of the file copy and paste you have to open the protection of the PDF file in a certain way.
How to Get PDF Files Copy Paste
PDF problems that cannot be copied text are often experienced by students and indeed this is very bothersome. Every time you look for references with the aim of wanting to quote the PDF data or statement, but the PDF file cannot be copied and pasted into word. It can be written manually, but it takes a lot of time.
The reason PDF files cannot be copied is because the file was locked or given a password by the creator. This is intended because the file may be valuable and privacy.
1. Convert PDF Files to Word
The first way you can do so that PDF files can be copied is to convert PDF files to Word by using the smallpdf.com site.
This site has a myriad of features for processing PDF files, such as reducing the size PDF files, merge several PDF files, to convert PDF files into Word.
1. Open the smallpdf site in your browser. Click here .
2. Then select PDF to Word . See the example in the picture.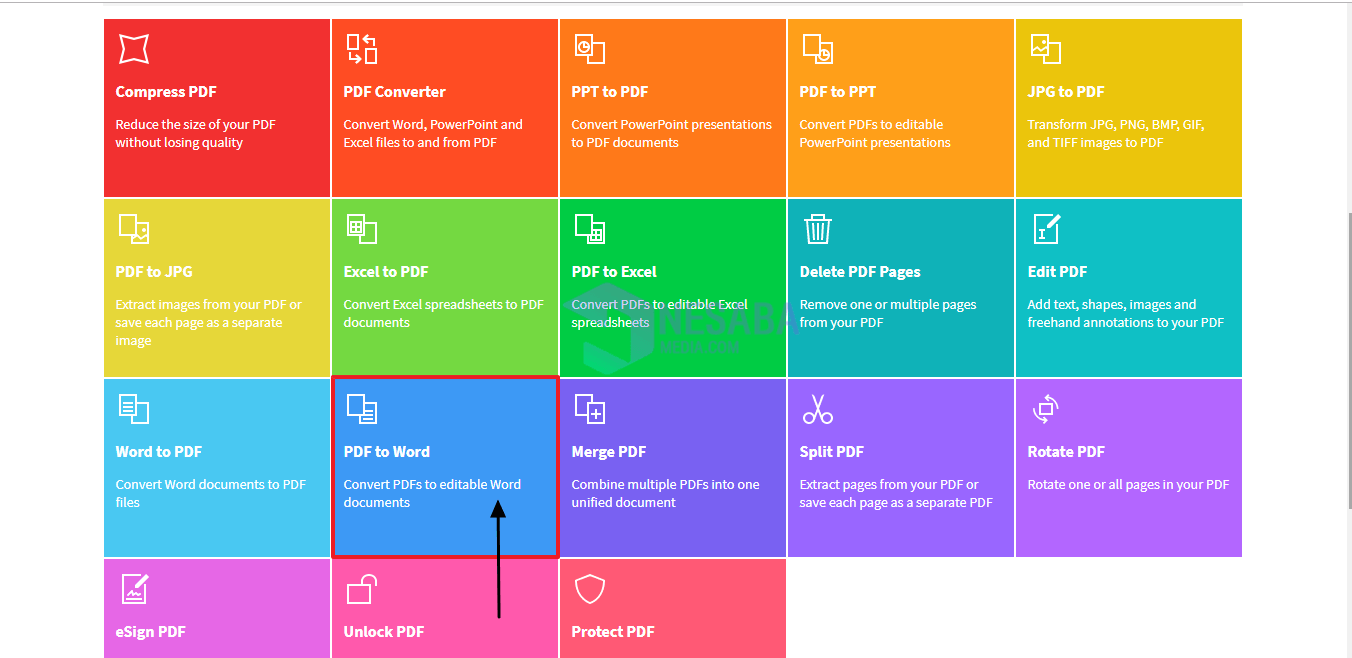 3. Then click Choose File or Select file to select the pdf file that cannot be copied. See the example in the picture.
4. Then wait a while until the PDF file has finished uploading.
5. If the PDF file upload process is complete, select Convert to Word then click Choose Option . See the example in the picture.
6. Then wait until the process of converting PDF to Word is complete. See the example in the picture.
7. Then download the file that has been changed to a word file. See the example in the picture.
2. Using Sumatra PDF Reader Software
One of the fastest and lightest PDF file format readers is Sumatra PDF. If you only need to read PDF documents (do not need editing features or add annotations and so on) and also maybe look for alternative software that is lighter than Adobe Reader or Foxit Reader, then Sumatra PDF can be the solution.
Besides being able to open PDF files quickly, Sumatra PDF can also be used to read XPS, CBZ, DjVu, CBR, and LaTeX files.
1. Install Sumatra PDF software first. You can download it here .
2. Then install as usual Sumatra PDF Reader.
3. If the installation process is complete, click Open a document to open the PDF file which previously could not be copied. See the example in the picture.
4. Then the pdf text block you want to copy, then right-click and then select Copy Selection or press CTRL + C. See the example in the picture.
Those are 2 ways to overcome the problem of PDF files that cannot be pasted and copied. Now you don't need to be sad if you get a pdf file that can't be copied pasted or protected. Because now you can do 2 ways above.
So that's 2 ways so that PDF files that can't be pasted can be copied. Hopefully this article can be useful and help your problem. Good luck and thank you.