Chat application that is very popular as it is today is Whatsapp. Whatsapp application is much in demand by the public because it is very easy to use. Not only that, the features contained in the Whatsapp application are also very useful for our daily lives.
Mainstay features of the Whatsapp application are such as Video calls Voice calls and also chat. We can do this activity easily, both from a smartphone or desktop.
Did you know that using Whatsapp can be used directly through a desktop computer without using a browser? You can download and install the Whatsapp application on your desktop computer through the Whatsapp website or from the Microsoft Store and Apple App Store.
How to Install Whatsapp on a Laptop / PC
And what you need to know is that you can use the Whatsapp application on This desktop computer can only be if your computer uses Windows 8.1 or the latest Windows. And for Apple products can only be used on macOS 10.0 or the latest macOS.
If your computer has another version or the version below mentioned earlier, you can enjoy the Whatsapp browser application. Here's how to install WhatsApp on a laptop / PC:
1. The first step you must do is download the Whatsapp application. You can download it at the Microsoft Store or at the link https://www.whatsapp.com/download.
As in the picture, you must download it according to your desktop computer. For Windows computers, there must be 64 bits. As for Mac, it must be macOS 10.10 or newer.
In this tutorial I use Windows. Click Download For Windows (64 – BIT) .
2. After completing downloading the Whatsapp application, you can open the folder where the application has been downloaded. Double click on the previously downloaded Whatsapp application.
3. Then you have to wait a while for the application to finish installing on your desktop computer. And if it's already installed, the Whatsapp application will launch QR Code like this. This QR Code is useful for you to scan on your smartphone.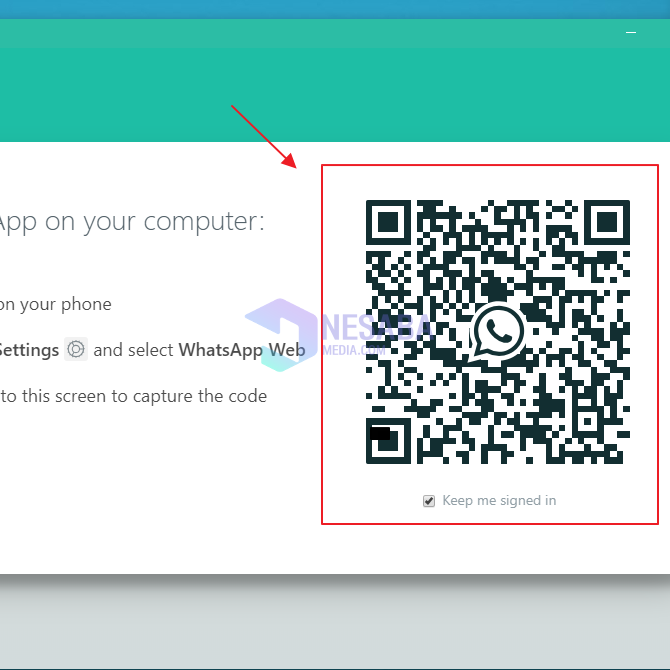 Scan WhatsApp QR
QR Code or Quick Response Code is a barcode that has two dimensions. Which QR Code can store data. The QR Code is also used by the WhatsApp desktop application as a condition for entering your WhatsApp account into the WhatsApp desktop application.
Here's how to scan the WhatsApp QR you can do:
1. First, you must open your WhatsApp application, which is on your smartphone. After that you will find point three in the upper right corner of the application. Click the dot 3.
2. Then a number of menus will appear, from which you must click WhatsApp Web .
3. After that you will be taken to the Scan code page. Therefore, you must prepare your desktop computer that has the Whatsapp application installed and has displayed a QR Code that will be scanned.
To scan, you must click OK, I Understand .
[194590232] [194590232] ] whatsapp " width="400″ height="711″/>
4. After a while, the Whatsapp application displays the camera as shown below. And it's time for you to point the camera to the QR Code that has appeared on the Whatsapp desktop computer application.
5. To check which devices enter your Whatsapp account, you can check them on the next page. And on the page below, the desktop computer device is logged in or active on your Whatsapp account.
6. Following is the appearance of the WhatsApp application on a desktop computer.
These are the steps to install WhatsApp on a laptop / PC. Hopefully the above method can help you in installing the WhatsApp application on your laptop or PC.