Now, mobile users are given the freedom to choose the number of available mobile operators. Unlike a few years ago, where mobile telecommunication companies in Indonesia are still very few with limited services as well. In general, the user selects provider which provides the most convenient and convenient service. Thus, now mobile telecommunication companies are competing in providing their best innovations and services to attract customers.
Telkomsel is the oldest mobile telecommunication provider in Indonesia. Now, Telkomsel has the largest number of users in one country that reach tens of millions of people. The number of users is spread across all sectors of Indonesia with various age ranges and circles. In addition, Telkomsel also encourages young people to positively utilize cutting edge technologies, innovative solutions, competitive products and services. Telkomsel is now supported by 24-hour call centers and 430 service centers spread across the archipelago. In 1997, one of Telkomsel's simPATI products became the first prepaid card launched in Asia and serves 27 provinces throughout Indonesia. Then, in the following year followed again received an award in leading the mobile industry market in Indonesia. And reportedly, in the year 2017 ago Telkomsel is conducting trials of the 5G signal.
Some time ago, exactly in 2017, Kominfo had stunned the public about ministerial regulations Kominfo No. 21 of 2017 about the registration of the sim card must use the identity card requested. Not a few have experienced protests related to this regulation, the article Kominfo has agreed that every 1 The Parent Number (NIK) may only register for 3 SIM card numbers only.
However, you can still replace the simcard You by first UNREG the old card if your NIK has been registered on three numbers. So you do not have to worry about the rules. Because, if your new card is not registered with NIK then kominfo will immediately block your prepaid card. Should check first whether your card is registered or not.
How to Check Telkomsel Card Registration
In this article will discuss how to check the registration of registered Telkomsel card / registration or not. To find out, just go to the explanation below.
Cara 1: Through USSD
1. type * 444 # > press call / yes / dial
2 . Type 2 in the available column> Send / send
3. Enter your Population Identity Number in available box> Send / send.
4. Wait a while until there is an incoming SMS from 4444 stating that your number has been registered using your NIK.
Way 2: Through the Website
1. Open your browser like chrome, mozilla, opera, and so on (may be from smartphone or PC / Laptop). Then type in the link column: https://www.telkomsel.com/cek-prepaid
2. After opening the page please enter Telkomsel number > enter NIK (KTP) > then select Get Password button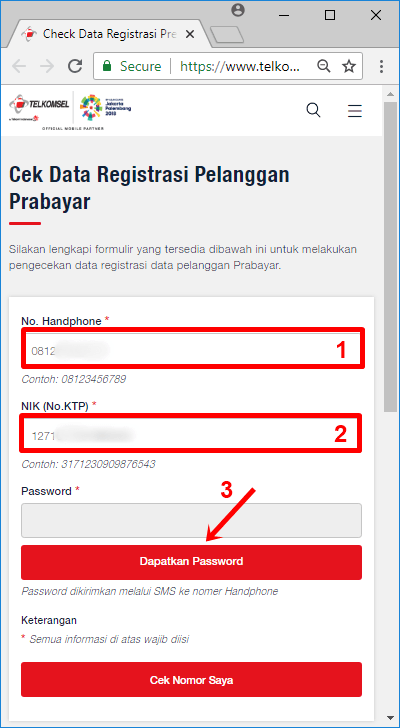 3. Wait until the password is sent to your number via SMS. Then enter the password into the available field> then select the Check My Number .
4. It will show the registration data of prepaid customers whether it is registered or not. (19459029)
Registration of the card providers is a government effort to prevent misuse of subscriber numbers, especially prepaid cards that are very vulnerable about this. Therefore, it would be good if we participate in helping the country's security by following the rules.
Easy is not how to check Telkomsel card registration ? Please register your card with valid data and may not fill with other people's data. Hopefully with this rule, crimes using communication tools will soon be minimized. The article about how to check the registration of Telkomsel card that has been registered or not, may be useful!