In Indonesia, there are many traditions which were passed down from our ancestors and have become customs. These traditions are usually often carried out by people who are in certain areas.
In the countryside or in places that are still thick with their customs usually do traditions, and these traditions are often referred to as local wisdom. Because these things are done specifically in a particular area.
Well, in this article we will discuss local wisdom along with examples. The following is an explanation of local wisdom and examples.
Examples of Local Wisdom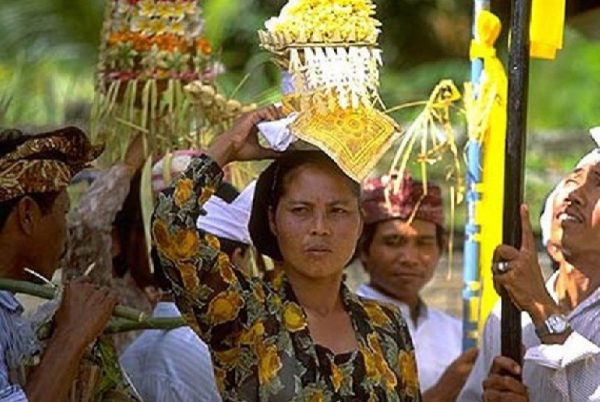 Before entering into examples of local wisdom, you should first know what is local wisdom. meant by local wisdom. Local wisdom consists of 2 words, namely wisdom which means wisdom and local meaning local area.
So the understanding of local wisdom is values, ideas, or views that originate from a place and within it also has wisdom. Not only that, there are good values ​​which can later be followed and then trusted by a number of people in a place and have been followed by way of heredity.
Following are some examples of local wisdom.
1. Awig-Awig in West Lombok and Bali
Awig-Awig is a customary rule that can be used as a guideline to act and also act primarily in terms of interaction. And also in things like processing natural resources and also its environment . And local wisdom is found in the areas of Bali and West Lombok.
2. Bebie in South Sumatra
Bebie is a tradition in planting and then planting rice together, it has the goal that is to make a permanent process can be quickly resolved. When the harvest is finished, there will be a celebration which is a form of gratitude for the successful and also successful harvest process. Bebie's local wisdom is in Muara Enim, more precisely in South Sumatra .
3. Customary Prohibited Forests in Riau
Local wisdom has a goal so that the people around them can jointly preserve the forests that are there. For example, there is a regulation regarding the prohibited logging of forests carelessly. If this is done, the culprit will be fined in the amount of 100 kg of rice or in the form of money amounting to Rp 6,000,000.
4. Cingcowong in West Java
Cingcowong is a type of ceremony that is useful for rain requests, this cingcowong tradition has also been carried out for generations by the Luragung community to be able to preserve its culture. And this tradition can also show a request to the Almighty if there is no obedience in each of His commands.
5. Repong Damar in West Lampung
Repong Damar is one of the local wisdoms that is often referred to as the damar forest. This Damar Repong is a model of management on a former land field in a form of agroforestry which can then be developed by the people of West Lampung in Krui. This tradition planted former land with various types of plants, for example rubber, resin, durian and coffee.
6. Tembawai in West Kalimantan
Tembawai is a community forest which was also developed by the Dayak Iban people located in West Kalimantan. In the forest also has various types of productive plants such as durian trees.
7. Pamali fishing in North Maluku
Pamali fishing is an adat rule that is both a ban and a boboso. And pamali fishing is also by jurisdiction very limited to customs, values ​​and also religion.
However, the concept of property right is formed from social institutions in the community that have lasted a very long time in regulating the use of marine and coastal resources. . This local wisdom is found in the Bobaneigo Village area in North Maluku.
8. Koko and Tattakeng in South Sulawesi
Before the introduction of agriculture such as lowland rice, the people of To Bentong had inherited land for their descendants in the form of gardens or Koko and also the abandoned fields or Tattakeng. Koko is a farm that can be cultivated by moving. While Tattakeng is a former cultivation land that is being given up. This local wisdom is located in the Minahasa province of North Sulawesi.
9. Moposad and Moduduran in South Sulawesi
Moposad and Moduduran are institutions that help to help that is very important in order to maintain harmony from the social environment. This local wisdom is located in Bolaang Mongondow, South Sulawesi province.
10. Pahomba in East Nusa Tenggara
Pahomba or commonly known as the forest cluster is a place that is strictly forbidden to enter, even more so with the intention to take forest products. And in essence, the trees in each of these pahomba have the function of becoming parent trees that can spread seeds into a fairly wide meadow.
Therefore, if the fire does not scorch and kill the saplings from these trees, the process of expansion naturally occurring forests. Trees that are roped in and around riverbanks have the function of being a filter for erosion material and also at the same time becoming a natural border that is useful for the preservation of river water.
11. Kean Kean in South Sumatra
Knowledge about kekean is an appropriate time calculation for being able to plant certain types of plants related to astronomy.
12. Balingkea in Central Sulawesi
Balingkea is a category of views on forests in the opinion of the Toro people. Balingkea is a former garden that starts from 6 months to 1 year old. Balingkea is often processed for palawija plants in the form of cassava, corn, peppercorns, nuts and vegetables.
13. Rimba Kepungan Sialang in Riau
Malay people are familiar with a division of land forest which also consists of 3 parts, namely cultivation land, prohibited forest and also the jungle of sialang siege.
14. Hompongan in Jambi
Hompongan is a grove of forests that also encompasses a core area of ​​the Orang Rimba settlement, or more precisely in the Bukit Dua Belas National Park in Jambi province. This is intentionally guarded because it has the function of being a defensive bull from external interference.
15. Sasi from Maluku
Sasi is a custom which is a guideline for every citizen of the Moluccas in managing the environment which includes guidelines for the utilization of natural resources.
Thus the article that explains about local wisdom along with 15 examples of local wisdom in Indonesia. Each region and region in Indonesia must always have their own traditions and culture. Therefore, Indonesia has a lot of activities of local wisdom carried out by the community in Indonesia. Hopefully this article can be useful for you.