For those of you social media users, of course you will be familiar with Twitter. Twitter is one of the most widely used social media.
Even before Intagram was viral until now, Twitter has been used for various needs. Some just write status about their daily life or life, there are also those who write opinions or criticisms of the government.
In addition, Twitter used to be present in a website version where it is now available Twitter application that you can download on Play Store and App Store. What's more, there are Twitter features that are not owned by the web version but you can use in the application version. So what are these features? In the following we will explain what features of Twitter you can use.
Twitter Features and Explanations
1. Lists
One of the reasons why many people who are a bit 'stingy' to follow other accounts is because they don't want the tweets to show up too much on their homepage. Maybe for close friends it doesn't matter, but for other people we don't know who that person is sometimes it even causes annoyance if too many posts appear.
But actually Twitter already has a feature that you can use if you don't want to be overly the number of posts that appear. This feature is called Lists which you can later use to limit who accounts you want to see their posts or tweets. With Lists, you can immediately see tweets in one post and will not be covered by other posts.
Even so, you can still see tweets from other people without needing to follow them. You can create your own groups about which accounts you want to see and not.
2. Bookmarks
For those of you who want to see a tweet but it turns out you don't have time yet, then you can still see it later. Do not worry, the twit will not disappear because Twitter already provides a feature called Bookmarks. Here later all the tweets you want to see can be saved for you to see when you have time.
3. Tweet Activity
Twitter features that are no less useful but are rarely used are Tweet Activity. With this feature, you can find out how many impressions and also the interaction and involvement of users. You can also find out how many people have clicked on the image or video that you uploaded. How many retweetes, shares, etc. can also be known through this feature.
4. Polling
This feature is useful for those of you who want to do research or surveys about something. You can use this feature when you want to ask for opinions or suggestions from people, whether related to yourself, others, or also about the government. Here the people who make your posts can find out what they should choose. You can also find out how many people made their choice.
5. Box Searching
Have you ever used this feature? Box Searching is a feature provided to be able to find other people's accounts. You can also use this feature to find approximately hashtag what is being viral or which tranding . Not only that, this search box feature can also be used to find other people's old accounts where you might want to see some of their tweets.
6. Tag Friend
For the sixth feature, you may have used it often. The friend tag feature is a feature that you will not only find on Twitter, but also some other social media like Facebook and as well as Instagram . This feature will allow you to tag friends who might be taking pictures or when you want to tag people so they can see the tweet.
7. Photo Collage
What are the photo collage features provided on Twitter? This feature allows you to make the photos that you have previously chosen to make as a collage. The trick is also very easy where you only need to click 'Add More' when you want to upload an image. After that, this feature will automatically appear.
8. Tweet Using SMS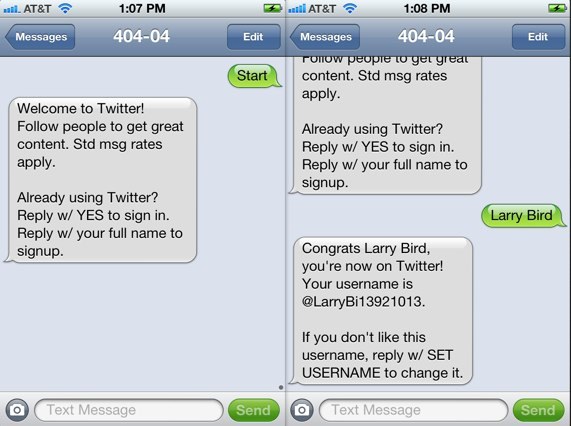 As we have explained that Twitter is not just social media that you use to create or view someone's tweets. Twitter is also a social media that is often used for business purposes and various other purposes. One of the features provided is a tweet using SMS.
Uniquely, this feature you can use when you are not has a quota . For those of you who happen to not have an internet quota but still want to make a tweet, then you can take advantage of this feature. How to do it? You only need to enter the settings and then you add your telephone number.
9. Supports Moving Images
Twitter also provides a feature where users can upload animated or moving images. The image format is GIF. Of course this feature is a distinct advantage where in addition to being able to upload ordinary videos and images, it turns out that Tweets can also upload moving images.
10. Your Activity on Twitter
A description of the latest Twitter features is about the activities that exist on Twitter. Your activity can be known where later you can find out how many people are interested in your post. In addition, you can also know about what you do on Twitter and how many tweets you share.