A file manager application is the most important application that every smartphone user must have. We can use this application to be able to access all files or digital files stored on our smartphone.
A number of smartphones also have built-in file manager applications, but the features available in the default application are very few. Therefore, I have summarized some of the best application managers that you can use on your Android smartphone, and already have some excellent features that can help you manage these files quickly and easily.
Not only can you access an files, features that are owned by third-party applications generally consist of features that can be done as maintenance of mobile phones, for example, such as to delete files that are not needed anymore and also to archive files.
And there are also applications that already offer a service cloud-based storage this is so that user files are safer and can be accessed anywhere. Here are 15 of the best file manager applications:
10 Best File Manager Applications
You can enjoy the services of this application for free by simply downloading it on your Play Store. You only need to choose one of the file manager applications below that suits you. Following is an explanation of the 15 best file manager applications:
1. Ez File Explorer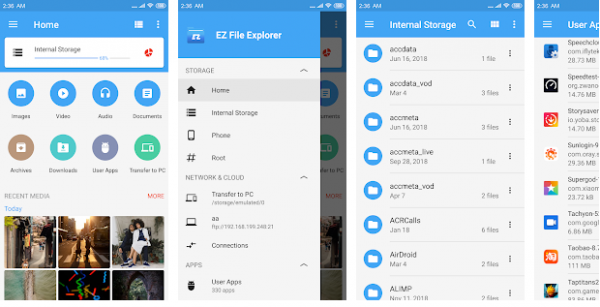 The best file manager application is EZ File Explorer. This application is a management tool that is very complete, including Images, Movies, Applications, Videos, Photos, Msik, Documents, Files and also Videos.
This application can be a management tool for a remote and local file system. This EX File Explorer can also help you manage your smartphone and files in your Android phone efficiently and can also share a file without data costs.
There are several excellent features found in the file manager application these, namely:
Can do file manager and folder manager with this feature allows you to operate your files. Such as copy, cut, rename and paste operations.
You can connect files remotely you can transfer files from your mobile to PC via Wifi with SMB.
Can send files and explore File in this function you can do Root Explorer.
Library and others in this feature you can do the application manager and document editor.
This application can also help you manage all files, whether the file can be stored in the memory in your device, local area network, in cloud storage or on a microSD card.
By default, this application allows you to move, copy, delete, rename and also be able to share a number of files in any storage. You can also browse and also access your files by category.
2. File Manager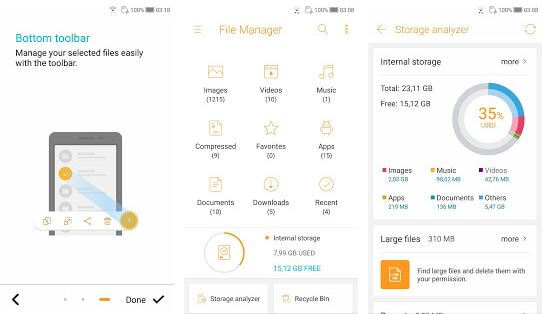 This File Manager application was released by displaying a very interactive display interface and also very spoil the eyes. This application was also developed by ZenUI Asus Computer.
Where this application is very complete with a number of features that can be useful such as copying files, deleting files, sharing files, changing names etc.
The main features contained in This application is an application that can manage files from several networks such as SMP and LAN. Not only that, this application has been downloaded more than 50 million times by users and can be used to stream multimedia files such as videos and music.
3. X-plorer File Manager
The X-plorer file manager application allows you to view files and folders contained on your Android smartphone device or on a microSD card. This application has a good interface and also has a two-panel feature.
Using this feature, allows users to manage a number of files by using two open windows at once. This feature can also help you when users want to copy files from one folder to another.
Another excellent feature is that this application can do network storage, application management, cloud storage, pdf viewer, play videos along with their subtitles. , extract the ZIP file and compress it, and also display the hex code.
This application can also provide support support such as saving WEb and LAN. Most importantly, this application is free of advertisements that are often annoying.
4. File Manager by Xiaomi
The File Manager by Xiaomi application is a tool that can manage files contained on your device in a very easy way. There are many good features in it, for example: delete, file, share files, search for files quickly, extract and compress ZIP files, copy-paste, rename a file, and move files.
This application also strongly supports various file formats, including video files, ZIP, music, images, APKs, and documents.
5. File Manager by Mobile Clean System Lab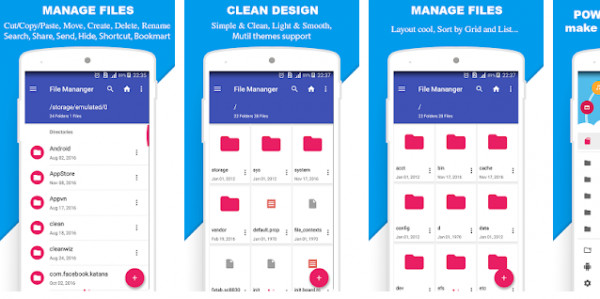 This file manager application was pioneered by the Mobile Clean System Lab. Where you can manage files on your Android smartphone the same way you do them on your computer. You can do multiple select on this application to cut, copy, paste, move, add, delete, rename, search, share, send, hide, bookmark and create shortcuts.
In doing application manager, you can categorize, uninstall, back up and also create shortcuts in your application.
6. Files by Google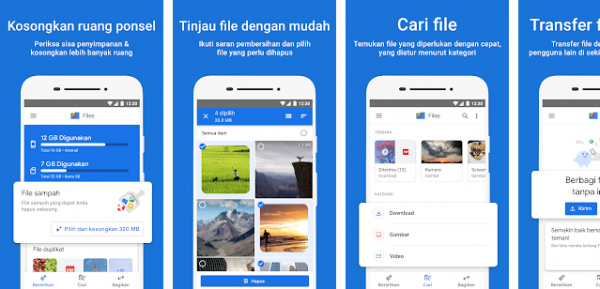 This FIles application was pioneered by the biggest technology company, Google. Google released this application and has already installed more than 1.5 million users. The features contained in this application are features to clear the room, and to clear the room will get a cleaning recommendation.
To search for a file, you can find it faster, because you can search for it with a search and a simpler search. Not only that, you can share files offline with other users quickly and without quota. This application can also back up files to the cloud, in order to be able to save space in the device.
7. File Manager by Maple Media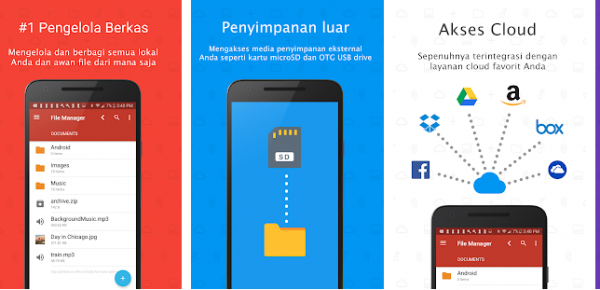 File manager pioneered by Maple Media can help you manage files very efficiently. The interface of this application is also very good and also intuitive.
Where this file manager can allow you to be able to handle each folder or folder, store well files on the device, microSD card, and also storage on the cloud.
Features the flagship of this application is that it can save disk space by compressing files. Not only that, you can extract compressed files in several formats such as Rat, Tar, Tbz, Zip, Tar.gz, Tar.bz2, and Tgz.
8. Simple File Manager
File management application called sample file manager is almost the same as other file management applications that have various features. The excellent feature of this application is that it can be used to explore root files and contents on a microSD card.
You can easily copy, move, rename, delete and also to share everything you can want. This application requires fingerprint permission to be able to lock the view of hidden files and all their applications.
In this application also does not have advertising content and also does not require unnecessary permissions. All sources are very open.
9. Cx File Manager
The appearance of the file manager application called Cx File Manager is fairly unique. Because the interface is made as informative as possible, so it makes you not feel confused when using it.
File management features in this application are the same as managing files and folders with other applications. This application already provides analytics for storage that can be visualized, which can allow you to quickly scan available spaces and then manage them.
Excellent features in this application are the Recycle bin, which can help you easily manage your storage on your mobile.
10. File Manager by ASUSTek
ASUSTek released its file manager application, which using this application can help you to handle all your files, both on mobile devices, local area networks, microSD cards and also on storage cloud.
By default, using this application you can manage storage space just like in other applications. The excellent feature of this application is that you can save disk space by grouping files.
Thus the article discusses the best file manager application. Hopefully this article can be useful for you and broaden your horizons.